115 Resort Road
Sagle, ID 83860-9434
(208) 263-5916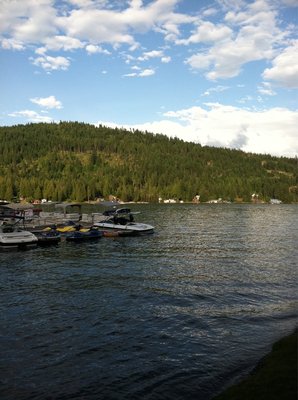 Bottle Bay Resort and Marina has been a popular vacation summer destination for over 40 years! Both locals and vacationers love to return year after year to this fun, family setting to relax, unwind and create some happy memories for the future.
Brief History
Situated on Lake Pend Oreille, the Bottle Bay Resort and Marina can be found on the western shore of Bottle Bay. This vacation spot first began to be developed back in 1963, when David & Rose Sloan built the very first dock, set up 2 deluxe trailers and sold boat gas to visitors. It was originally named, Sloans Ponder Rosa.
Eight years later in 1971, Vic and Sandy Colvard bought the marina and then went on to build the Bottle Bay Resort & Marina store. 1979 saw new owners come on board and the log cabins and main house were built, as well as a water system to supply water to the visitors. In 1989 John and Dorette High purchased the Bottle Bay Resort & Marina resort. They continued to expand the docks, add the restaurant and also built the shower and laundry building. In 2001 Chip and Julie Houske bought the Bottle Bay Resort & Marina and they have continued to build and expand to make the resort and marina what it is today.
Facilities
So if you were to visit the Bottle Bay Resort & Marina today you would find paved roads down to the marina, spaces for 65 boats at the docks. There are now 6 rustic log cabins available to guests, each with a queen bed up in the sleeping loft and another queen hide-a-bed in the living room on the main level. The kitchen is fully equipped so that you have all that you need to cook some delicious meals during your stay. All linen, including bath towels and bed sheets are provided. You will just need to remember to bring your own beach towels for when you go swimming.
If you have a boat that you want to bring with you, then be sure to mention this at the time of making your reservation and you will be given a free boat slip to use during your stay.
Vacation Activities
There are many fun things for you and your family to enjoy during your vacation. These activities include:
Kayaking
Canoeing
Paddleboats
Relaxing on the beach
Fishing from the docks
Lake cruises
Eating at the Bottle Bay Bar and Grill
There are many more things that you can do on your vacation at the Bottle Bay Resort and Marina or you may just decide to sit back, relax and enjoy the gorgeous view of the lake and surrounding mountains.