1410 Mill Road
McCall, ID 83638
(208) 634-4151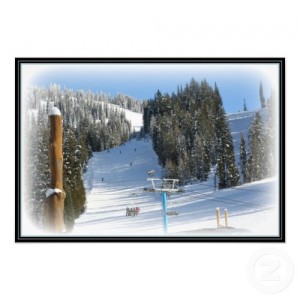 Just 8 miles from McCall in Idaho, you will find the all season Brundage Mountain. In winter it offers one of the best skiing experiences in the Northwest and come summer the playgrounds, meadows and leas offer non-stop adventures.
This November the Brundage Mountain Resort is 5o years old. It offers 19,000 acres of snowy steeps, tree-lined glades and powdery bowls. Gearing up for their anniversary, they are offering six different great value deals on a first come, first serve basis. A full-day backcountry SnowCat Adventure, a two-hour Private Lesson session, and a full-day high performance rental package along with an unlimited Adult pass for the season can steal any snow lover's heart. From the emotional first snow flakes and drawing angels, to a good snow shower that never fails, Brundage mountain-Idaho resort, offers everyone a memory and a challenge! Discipline and obeying the resort's safety tips and rules will ensure your holiday is accident free. Safety on the ski slopes is a primary concern and all ski patrol members are trained professionals. As an additional feature the winch cat operates from the time lifts close in the evening until they re-open in the morning starting from Thanksgiving through mid-April or early May every year.
From guided Cat skiing for the serene visitors, to skiers and snow-boarders welcome to responsibly use the huge tracts of snow slopes and pistes the Idaho resort matches ability levels to a package to suit everyone. A beginner can learn skiing from accredited professionals at the Mountain Snow-Sports School, at prices that are hard to beat, and include gear and cost of professional trainers. Of course the professionals will compete to improve under watchful eyes!
The Terrain Park is for those who dream of jumps and rails as the ultimate tests of balance and strength.
The food and choices available are a gastronomic delight of typical Texas food. The way to a person's heart is through his stomach definitely! The must visit locales are the Main Lodge Cafeteria, Smoky's kitchen, Bear's Den and Bird's nest. Aptly quoted as 'Suitable to both palate and wallet', offers breakfast and the grill facility with the famous Angus beef burger topped with hamburger toppings from the self-serve "Hamburger Fixins" Bar. The French fries are a perennial favorite, as they are fried for the diet conscious in soy oil.The bread basket offers a choice of by fresh cornbread, brownies, scones, turnovers and cinnamon rolls. Salad servings in two sizes and constant innovation of the Texan food including Yakisoba Noodles and Chicken Alfredo can cater to the most discerning and provide a global choice of food. Outside liquors are not allowed and visitors are encouraged to buy at the licensed outlets from mild to strong alcohols, beers and wines. A great way to culturally imbibe and learn the taste of a varietiey of beers and wines.
Come summer the resort is home to some of the most beautiful land-scapes which can be viewed from the chairlifts. Summer activities include mountain biking, rafting and one gets to see the culture of Texas weddings celebrated with local flavors, food, wine, culture et all!
Call Toll Free: 1-800-844-3246 for a vacation planner to help you discover Eden on earth!
More About Brundage Resort
Brundage Resort is an exceptional ski destination. Offering terrain parks, backcountry tours and trails, this Full-service resort has many features that will keep you busy all winter long. Here, you can enjoy a full day of skiing, snowboarding, or other outdoor activities. This Vermont getaway is a great place to get away from the hustle and bustle of everyday life. Here are some of the top reasons to visit Brundage Resort.
One of the best features of Brundage is its uncrowded powder. The resort offers a wide variety of trails, ranging from beginner to advanced, and is ideal for families with children. Its staff is friendly and will guide you in the right direction. There is no shortage of things to do at Brundage, so it's worth visiting during the warmer months. Whether you're a skier or snowboarder, you'll find a variety of activities to enjoy at the Brundage Resort.
A variety of recreational activities are available at Brundage. There are several mountain bike trails, including lift-served downhill and XC trails. You can also play disc golf, lawn games and take scenic chairlift rides to the top of the mountain. There is a TGIF concert series held every Friday night for music lovers. If you're looking for a quiet, family-friendly environment, Brundage is the perfect place to go.
Whether you're a skier, snowboarder, or hiker, Brundage is a great option. With its affordable rates and family-friendly atmosphere, it's a great place to spend a weekend with the family. The powder is untouched and undisturbed at Brundage, and the resort's unpretentious approach makes it an ideal destination for family vacations. If you want to get away from it all and enjoy the outdoors, Brundage is the place to go.
For bikers, Brundage Mountain Resort is an excellent destination for mountain biking. There are plenty of trails for the entire family, including XC trails and pump tracks. During the summer, you can enjoy free concerts and other events at the park. The mountain is a popular destination in the region. The mountain is located in the Payette National Forest, and is accessible only by car. The mountains are beautiful and a beautiful backdrop for the Brundage ski area.
The resort is a perfect destination for skiers of all levels. The resort is a popular ski destination for Boise residents, and is a great place for weekend getaways. Its powder is unmatched in the interior Northwest and is well-suited for novices. Its moderate terrain is perfect for beginners, and the resort is located on the edge of Payette National Forest. It is easy to see why Brundage is a popular vacation spot for locals and visitors alike.
The resort is accessible from State Highway 55 and Goose Lake Road, four miles west of McCall. After crossing Goose Lake Road, turn right and take the first left to reach the ski area. The Brundage ski area is elevated at over 6,000 feet. In addition to skiing and snowboarding, the ski area also offers hiking and mountain biking trails. There are over twenty miles of specially built single-track trails, which allow visitors to explore the mountain and its surrounding areas.