115 South 2nd Street, PO Box 7200, Coeur d'Alene, ID 83814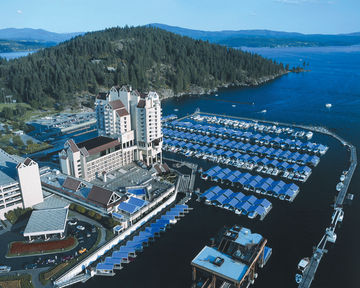 The Coeur d'Alene Resort is a luxury resort hotel in Coeur d'Alene, Idaho. Situated around the north shore of Lake Coeur d'Alene, the Coeur d Alene Resort functions a marina, convention amenities, spa, also as being a notable 18-hole golf course. The hotel has 338 rooms and suites. The main tower has 18 floors.
The resort was constructed by Duane Hagadone and Jerry Jaeger and opened in 1986. Created by architect R.G. Nelson, the hotel functions a ¾ mile floating boardwalk. The site of the golf program was originally a sawmill, which operated from 1916 until the early 1970s. The Hagadone Corporation bought the house in 1988 and created the golf program and floating green, which opened in 1991. The building with the resort and golf course required environmental clean-up of the debris left from the lumber industry.
One of Idaho's most famed resorts, the Coeur d' Alene Resort defines luxurious. The Coeur d'Alene resort is home to the world's only movable floating golf green. All rooms in the resort are non smoking.
If you're arriving via the Spokane International Airport and need floor transportation to the Resort, Limo Van service is available with advance notice at a cost of $59 per individual spherical trip (no break for 1 way trip).
If arriving in the Coeur d'Alene Airport, transportation is accessible for $35 per limo van. For all those arriving by automobile, parking is available within the Resort's coated and secured garage for $15 per evening.