4777 West Lakeshore Road
Priest Lake, ID 83856-9683
(208) 443-2551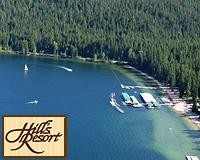 We always dream of vacationing to a place far from the city where everything from relaxation, nature tripping or outdoor activities can be found. Hills Resort is the place to be. Hills Resort is in Northern Idaho where it is positioned near a lake and the mountain, a nature at its finest. Plus, the resort is known for its excellent service.
Hills Resort provides a place for functions such as seminars, reunions, retreats and conventions. The resort itself is perfect for this type of function because it is surrounded with nature that helps people feel comfortable with.
Hills Resort has plenty of packages to choose from. You can choose to stay near the lake or the forest. There are cabins that are located in that area. However, if you want to stay in a more luxurious setting, they have condominiums and chalets as well. All these are available all year round.
While staying in this fine resort, you can also take advantage of the activities that they offer. Activities like boating, fishing, kayaking and skiing are best to do when you are in Priest Lake during summer. They also have tennis courts, pickleball and volleyball courts here as well if you want to shed some sweat and do some exercise. During winter, would not be a bore for you because they also have cross country skiing here and snowmobiling. In every season, there are a whole lot of activities in store for you. And what is so good here, Hills Resort also have massage therapist available for you if you want to relax your body and your mind.
You can get to Hills Resort by plane or by car. If you want to go there by plane, there is this 2 hour ride from the airport in north of Spokane. But if you are interested in seeing the sights while driving in your car, you can do so. All you have to do is go through Priest River up to the intersection of Luby Bay Road that would lead you to Highway 57. From then you have to turn right and continue until you see where the Hills Resort is.
Find yourself charmed by the beauty of Hills Resort in Priest Lake, Idaho. Coming here would be a great choice and a memory to be cherished.
More about Hills Resort
The stunning setting of Priest Lake, Idaho, makes Hill's Resort a top choice for a ski vacation. It's about 80 miles north of Spokane, a two-hour drive, and 50 miles from Sandpoint. From Spokane, the resort is accessed via scenic Highway 57. Travel north from downtown Spokane through the small town of Priest River. Once in Priest River, turn left on Luby Bay Road, and the resort is located 1.5 miles further on the left.
The beautiful setting makes it a year-round resort destination, and the restaurant is open year-round. The resort offers dining daily from mid-May through the first week of October and is open for dinner on the weekends during most of the other months. During the off-season, the resort is closed to the public, but it is still an ideal destination for winter getaways and family vacations. The resort is also a popular spot for weddings and corporate events, and can accommodate groups of any size.
This Idaho resort is owned by Craig Hill, and it is located in a beautiful lakeside setting. It features 52 modern cabins, 19 acres leased from the U.S. Forest Service, a new dock, and an award-winning restaurant. All of this is an excellent value, and the stunning setting and views of the Tahoe basin make it a great destination for any occasion. Guests can also choose from an array of accommodations in the area.
The Hill family has been in business for many years and is a popular destination. The resort provides lodging and dining for travelers all year round, but the restaurant is open only on the weekends during the summer months. The restaurant is open daily from mid-May through the first week of October. The resort's restaurant is only open on weekends during the winter, and is closed on New Year's Eve. The hotel is also closed in March and April.
The Hill family has always been a family-oriented resort, with a focus on nature and wildlife. Its unique atmosphere and beautiful cabins have made it a popular destination for many. Its restaurant has won awards, award-winning cuisine, and a dock that is accessible year-round. Whether you're traveling with your spouse or the kids, Hill's Resort is the perfect place for the holiday. There's something for everyone in this resort.
The Hill family has a long history of hospitality. The Hill family's resorts are a popular vacation destination for families, as well as for conventions and business retreats. The beautiful setting and friendly service make it an ideal location for any occasion. Its restaurants are open daily during the summer and are open on weekends during the winter. Their families also have several children. The family can accommodate up to 300 people. There's a variety of dining options at the resort.