4777 West Lakeshore Road
Priest Lake, ID 83856-9683
(208) 443-2551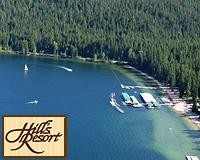 We always dream of vacationing to a place far from the city where everything from relaxation, nature tripping or outdoor activities can be found. Hills Resort is the place to be. Hills Resort is in Northern Idaho where it is positioned near a lake and the mountain, a nature at its finest. Plus, the resort is known for its excellent service.
Hills Resort provides a place for functions such as seminars, reunions, retreats and conventions. The resort itself is perfect for this type of function because it is surrounded with nature that helps people feel comfortable with.
Hills Resort has plenty of packages to choose from. You can choose to stay near the lake or the forest. There are cabins that are located in that area. However, if you want to stay in a more luxurious setting, they have condominiums and chalets as well. All these are available all year round.
While staying in this fine resort, you can also take advantage of the activities that they offer. Activities like boating, fishing, kayaking and skiing are best to do when you are in Priest Lake during summer. They also have tennis courts, pickleball and volleyball courts here as well if you want to shed some sweat and do some exercise. During winter, would not be a bore for you because they also have cross country skiing here and snowmobiling. In every season, there are a whole lot of activities in store for you. And what is so good here, Hills Resort also have massage therapist available for you if you want to relax your body and your mind.
You can get to Hills Resort by plane or by car. If you want to go there by plane, there is this 2 hour ride from the airport in north of Spokane. But if you are interested in seeing the sights while driving in your car, you can do so. All you have to do is go through Priest River up to the intersection of Luby Bay Road that would lead you to Highway 57. From then you have to turn right and continue until you see where the Hills Resort is.
Find yourself charmed by the beauty of Hills Resort in Priest Lake, Idaho. Coming here would be a great choice and a memory to be cherished.