5488 E Kelly Canyon Rd
Ririe, ID 83443
(208) 538-6251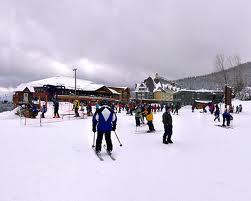 Winter is coming and what more fun to do is go skiing, right? Gather your family or all of your friends and plan for a winter getaway. Choosing what winter resort is a difficult thing to do considering there are a lot of resorts out there for you to look at. But one resort here in the northeastern part of Idaho Falls is a perfect choice for you and that is Kelly Canyon Ski Resort. It is a perfect place to ski and just relax.
When going to Kelly Canyon Ski Resort, the first thing that you'd like to see is the mountain and its terrain. And you won't regret why you come here in the first place. The terrain is perfect for everyone to ski even if you're a beginner or an expert skier or snowboarder. They also offer night skiing that every person vacationing here is so enthusiastic about. For first time skiers, Kelly Ski Resort offers lessons for them while having fun. However, if you don't want to do it alone, there are packages for you to choose from. Gear rentals are also offered here. You don't need to worry bringing heavy gears in coming here. Just bring yourself and let them take care of you.
Kelly Canyon Ski Resort also has a lodge where people can stay for the night or longer. It is fit for families, friends, or company outings. It also has function rooms for corporate events, or even private parties. Being here is like doing business and pleasure at the same time. You can definitely stay here all year round even if it's not winter.
What's great about coming here also is that they have cheaper food prices that are good for your budget. You can also purchase lift passes for skiing through online. And everything you need to know about Kelly Ski Resort, may it be prices or schedules, is right in there website. So without much thinking, go ahead and book yourself a place to stay in magnificent Kelly Ski Resort.
More about Kelly Canyon
For boarders and skiers, Kelly Canyon Resort has a half pipe and 640 acres of terrain. It is also known as a long-running ski resort. The terrain at this Long-running resort is groomed, and there are numerous runs for all levels of snowboarders and skiers. There are also a variety of other activities for the whole family to enjoy. If you're interested in snowboarding, Kelly Canyon is the place to go.
Located in the Targhee National Forest, Kelly Canyon is a great ski area for all levels. The resort has 740 acres of skiable terrain, 26 trails, and certified instructors to teach new skiers. The slopes are wide and challenging, but are also accessible for people of all experience levels. For the beginners, there are classes to learn snowboarding. If you want to try something new, Kelly Canyon also offers lessons for both.
Skiers and snowboarders will love the mountain's wide variety of terrain, including night skiing. The ski area has four double chair lifts with a capacity of about 2,100 per hour. The resort is located at an elevation of 6,600 feet, so there is no shortage of skiing. The trails are rated Easy to More Difficult, and the resort has many restaurants and bars. It is accessible from Idaho Falls, Rigby, and Rexburg.
For beginners, Kelly Canyon is an excellent option. It offers 740 acres of skiable terrain and 26 trails. The ski area has a mix of wide and challenging runs. The longest run at the resort is 6,900 feet. The slopes are groomed year-round, and certified instructors are available to train newcomers. There are snowboard classes during the holidays, as well as on weekends and holidays. The ski resort also offers a 600-foot tubing park.
For families, Kelly Canyon offers many activities for skiers and snowboarders. The ski area includes a variety of terrain parks, which offer different levels of difficulty. During the day, visitors can enjoy skiing at the resort's base elevation. At night, the slopes are illuminated with lights, so night skiing is possible during the day and at night. The ski area is accessible from Idaho Falls, Rexburg, and Rigby.
The ski area at Kelly Canyon is located near the scenic South Fork of the Snake River. It is a family-friendly mountain with terrain suitable for all levels. Whether you're a beginner or an experienced skier, the ski area at this resort has something to offer everyone. For those who want to be in the snow for the entire season, Kelly Canyon is a great place to go. If you're a skier, you'll find lots of options for intermediate and expert skiing.
The ski area at Kelly Canyon is situated on the northwest end of the Big Hole Mountains, southeast of Rexburg. Its location is perfect for families, and it is close to prime mountain biking and hot springs. The new lift at the ski area is slated to open in 2021 and will increase access to the mountain. The resort will also be able to host events like weddings, conferences, and family groups. It is a great place to get married, hold a wedding, or plan a corporate event.