5488 E Kelly Canyon Rd
Ririe, ID 83443
(208) 538-6251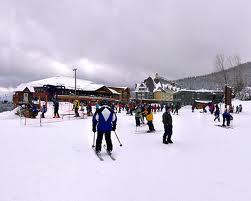 Winter is coming and what more fun to do is go skiing, right? Gather your family or all of your friends and plan for a winter getaway. Choosing what winter resort is a difficult thing to do considering there are a lot of resorts out there for you to look at. But one resort here in the northeastern part of Idaho Falls is a perfect choice for you and that is Kelly Canyon Ski Resort. It is a perfect place to ski and just relax.
When going to Kelly Canyon Ski Resort, the first thing that you'd like to see is the mountain and its terrain. And you won't regret why you come here in the first place. The terrain is perfect for everyone to ski even if you're a beginner or an expert skier or snowboarder. They also offer night skiing that every person vacationing here is so enthusiastic about. For first time skiers, Kelly Ski Resort offers lessons for them while having fun. However, if you don't want to do it alone, there are packages for you to choose from. Gear rentals are also offered here. You don't need to worry bringing heavy gears in coming here. Just bring yourself and let them take care of you.
Kelly Canyon Ski Resort also has a lodge where people can stay for the night or longer. It is fit for families, friends, or company outings. It also has function rooms for corporate events, or even private parties. Being here is like doing business and pleasure at the same time. You can definitely stay here all year round even if it's not winter.
What's great about coming here also is that they have cheaper food prices that are good for your budget. You can also purchase lift passes for skiing through online. And everything you need to know about Kelly Ski Resort, may it be prices or schedules, is right in there website. So without much thinking, go ahead and book yourself a place to stay in magnificent Kelly Ski Resort.