10000 Schweitzer Mountain Road
Sandpoint, ID 83864
(208) 263-9555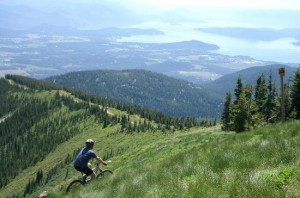 In the Selkirk Mountains, northwest of Sandpoint in Bonner County, northern Idaho, is the Schweitzer Mountain Resort. This ski resort is a popular destination with locals and other vacationers who travel especially to enjoy all that the Schweitzer Mountain Resort has to offer its visitors. Schweitzer Mountain Resort overlooks the beautiful Lake Pend Oreille and the Cabinet and Bitterroot mountain ranges.
There are flexible lodging options available for guests to suit different budgets and requirements. These include:
White Pine Lodge – Luxurious, furnished condo-style units, with slopeside access. Each condo has a fully equipped kitchen and living area, access to a heated outdoor swimming pool and two large outdoor hot tubs.
Selkirk Lodge – 82 slopeside rooms offering everything from hotel style rooms to luxury suites. European Style design right in the heart of Schweitzer Village. Restaurant, cafes and shopping only a short walk away.
Guests have the option to get one of the Schweitzer Difference packages. This adds much more flexibility and many additional benefits for your stay at the Schweitzer Mountain resort. Some of these benefits include:
Free buffet breakfast in the Chimney Rock Grill. This is for every family member staying in your unit.
Two complementary adult ski/snowboard clinics
Covered parking
Ski, snowboard and bike storage
Unlimited local and toll free telephone calls
Long distance access calls
Unlimited wireless Internet access
Daily newspaper delivered to room
You can go online and buy your season passes early in order to save some money and be sure that you have your desired dates booked in.
There are coaching sessions and season passes available for all ages. Children and adults are well catered for, along with all levels from complete beginner to more advanced skiers or snowboarders.
Mountain Xplorers Package for ages 5 to 8 years.
Junior Pass/Funatics Coaching Program for ages 7 to 14 years.
Lift tickets are available with a number of different options. You may choose to get a half-day ticket, full day ticket or even multi day tickets. The prices vary depending on the age. There are tickets for Adults, College students (must have appropriate ID), Children and Seniors. Children aged 6 and under are free when accompanied by a paying adult.
Parking is available at the Lakeview Lot with a daily charge or you can choose to get a Reserved Lakeview Parking Season Parking Pass so that you are covered for the entire duration of your stay.
There are many different activities that you can enjoy when you visit the Schweitzer Mountain Resort. The choice really is yours how much or how little you want to do.
More about Schweitzer Mountain Resort
Situated in the Selkirk Mountains in the northern panhandle of Idaho, Schweitzer Mountain Resort is a renowned family resort. The 2900-acre property overlooks Sandpoint, Idaho, and Lake Pend Oreille, and is noted for its two giant bowls. This ski and snowboard resort has been praised as one of the best in the Pacific Northwest and Inland Northwest, so it's no surprise that it has become a popular family destination.
The Schweitzer Mountain Resort was founded in 1991 and has since become a top-quality ski and snowboarding destination in Idaho. The resort offers comfortable, luxurious accommodations that match the beauty of the surrounding mountainscape. Summer activities at Schweitzer include hiking and horseback riding, as well as a climbing wall. Guests can also experience world-class skiing and snowboarding during their stay at this beautiful resort. The facility has a spa to pamper them after a day on the slopes.
Schweitzer Mountain Resort is a premier ski resort in Idaho. Located between 1,206 and 1,950 meters above sea level, this ski resort has a variety of terrain to challenge even the most advanced snowboarder. A full-service spa and a family-oriented lodging program are just a few of the amenities at this ski resort. It is an easy drive from Spokane, Washington. When visiting, it is suggested that you make reservations at Schweitzer Mountain before heading out on the slopes.
When Schweitzer Mountain Resort was struggling, it fell victim to bankruptcy. The new owners, Harbor, a Seattle-based real estate company, bought the property in 2009. The new owners have a combined 25 years of experience in ski resort management and expanded the amenities and services offered at Schweitzer Mountain. In addition to installing two new handle lifts, the company has renovated and added a new beginner area, and the resort has installed an upgraded electrical system for the Great Escape Quad.
The Schweitzer Mountain Resort has a rich history. The property has been a popular ski resort for over a century. Today, the property is a prime location for outdoor enthusiasts. The town is home to several ski resorts, including Mission Ridge and Stevens Pass. Guests can enjoy the spectacular scenery from the slopes or spend a relaxing day in the spa. During the summer, there are also activities such as horseback riding and climbing walls.
The resort opened in 1932 as a nonprofit corporation, with hundreds of stockholders. Jim Brown, Jr., a sawmill owner from Sandpoint, purchased the property in the early 1980s and began operating the resort as a private company. In 1986, the first chairlift rides were offered. The name changed to Schweitzer Mountain Resort in 1989, and the ski area was transformed. In addition to the chairlifts, the mountain had hiking trails and mountain bike rentals.