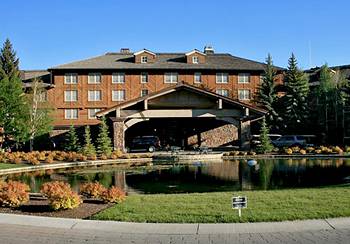 Where can you vacation that has something for everyone? Idaho's Sun Valley in the United State's Northwest is the place. Would you like to ski on Bald Mountain, go fly fishing or golfing in the afternoon? There are so many activities for everyone like horseback riding to see the beautiful mountain landscape, snowshoeing, ice skating, concerts, festivals and jazz jamborees at the Sun Valley Pavilion to help you embrace the ambiance of being in the "gem" state.
There are hiking, climbing, biking and racing experiences, also tours and private lessons are offered for different activities. Children can attend day camp and play school and there is even a bowling alley within the lodge. The Sun Valley Lodge consists of 148 rooms, and there are also condos or cottages if that is your preference. You can relax with a visit to the Sun Valley Salon and Day Spa, and then dine at Gretchen's or begin a lovely evening at the Duchin Lounge.
The location of Sun Valley Lodge is such that everything you need and want to do is within walking distance, or if you choose, a complimentary bus is offered. The fun, the sun, the adventure, the excitement of seeing and trying new things just exudes from Sun Valley. The scenery will take your breath away if the exhilaration of skiing or climbing a beautiful mountain doesn't.
It really is picture perfect, and there are so many exciting things to experience. If you would like more information on Sun Valley, you can view the website at www.sunvalley.com where more and specialized information is listed in detail even up to the weather forecast. I predict that you will have a very "sunny" time in Sun Valley, whether the sun is shining or not. It is beautiful country that will inspire you to try new activities, and you will be captivated by the natural beauty of the land when you visit Sun Valley.